Official Launch of AirTV with Dish
Official Launch of AirTV with DISH DBS
Last year, Dish Network offered its AirTV player for a limited market to gauge consumer interest. Pleased with the response, the satellite system made AirTV an official feature of its Sling TV service last week.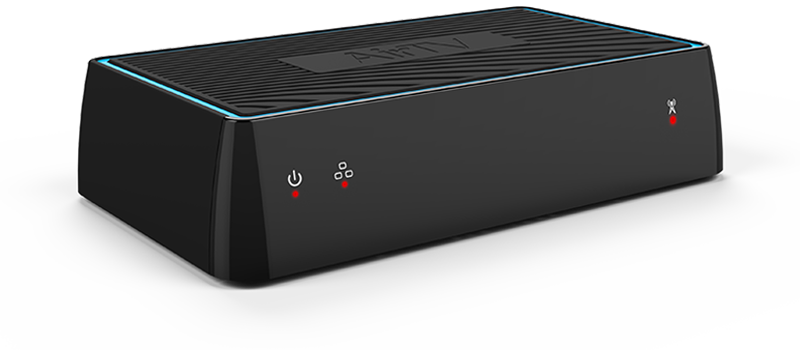 The AirTV Player, also launched last year, is an Android device that streams over-the-air (OTA) video and YouTube, Netflix, and Google Play apps.  OTA video, as the name implies, is broadcast over the airwaves. Traditional commercial broadcast TV is OTA, as are almost all local stations.
The AirTV Player is still on the market. A DISH customer can get its OTA functions on all TV sets in the home through a single antenna. Via WiFi, the AirTV device delivers the OTA signal to every web-connected TV, tablet, computer, or phone in the house. With AirTV, the customer can view free local channels via the Sling TV or AirTV app on Amazon Fire TV, Roku, Android, and iOS devices. In some markets, a customer can receive more than fifty free local channels.
Local channel availability will vary with viewer location.
No Monthly Fees for Local Channels
There is no monthly fee for AirTV service. Getting it requires only the one-time purchase of AirTV equipment for $119.99. Though the service is available through Sling TV, the app will work without a Sling TV subscription.
Mitch Weinraub, AirTV's official director of product development, said Sling TV hasn't offered local channels because they are expensive and inconvenient. Most pay TV customers, he said, shell out $10.00 to $15.00 per month for local broadcast stations.
Though Weinraub didn't mention retransmission consent fees in his official statement, the AirTV device helps Sling TV avoid them. The streaming service has no carriage contracts with any local broadcast stations. This not only holds down costs passed on to consumers, it simplifies negotiations and prevents some potentially crippling business roadblocks- including channel blackouts.
What is Sling TV?
Sling TV is Dish Network's semi-independent internet video streaming platform. Sling TV does not require the conventional satellite dish or professional installation. It is compatible with a wide variety of streaming devices, including Apple, TV, Amazon FireTV, Roku, Channel Master, and Chromecast; Mac and PC computers, Android and iOS tablets and phones, and XBox One gaming consoles.
Sling TV's basic channel package sells for a mere $20.00 per month.
(For any TV, internet, or home automation service, shop with Bundle Deals. Compare all providers and plans, then order any service with just one phone call.)