Antenna Free with Sling TV
Antenna Free with Sling TV
Do you need an OTA (over-the-air) antenna? You might think OTA is an outmoded technology, supplanted by cable and internet TV. But in many areas, you will need an antenna to bring in local broadcast channels.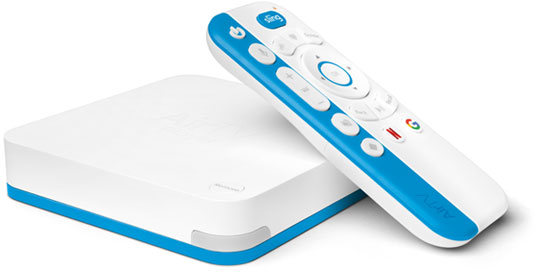 Antennae cost extra, though, from $40.00 to $150.00 for a good one.
This is about to change. Sling TV, Dish Network's internet streaming video platform, is offering free OTA antennae or discounted AirTV Players  to new customers.
Under terms of a promotion opened on September 13, a qualified customer who prepays for two or three months of service can get a free antenna or a discounted AirTV Player/antenna combination. Based on geographic location, new customers who prepay for two months can get free Winegard antennae (each one a $59.99 value). Prepaying for three months qualifies a new customer for an AirTV Player, an adapter for it, and the Winegard antenna for just $70.00. This is a $119.98 discount from the suggested retail price: $189.98.
The AirTV Player is an OTA/OTT device controlled through Android TV. OTT (over-the-top) means internet streaming video, with content and channel packaging not controlled by a cable or satellite system.
Sling TV already offers live local FOX and NBC stations, but access is largely confined to network-owned-and-operated stations.  To receive independently-owned broadcast stations, the viewer will need an OTA device.
About Sling TV
Dish Network launched Sling TV early in 2015 as an independent platform. Unlike conventional cable and satellite service, Sling TV doesn't require long term contracts, cable boxes or satellite dishes, or professional installation of equipment. Sling TV transmits its content via the internet. The customer logs into the Sling TV app by entering a four-digit code.
Sling TV works on Roku, Chromecast, AndroidTV, Apple TV, Amazon Fire TV, Channel Master, ZTE, LG, and LeEco dedicated streaming devices, Mac and PC computers, Android, Amazon Fire,  and iOS tablets and phones, and XBox One gaming consoles.
Pricing for Sling TV starts at just $20,00 per month for thirty channels. Several 'Extra' sports, news, entertainment, and children's packages are available for just $5.00 per month each.
About Bundle Deals
Bundle Deals is one of America's largest retailers of TV, internet, home security, and home automation services. We represent all major providers. Because we are independent, we can give you an objective assessment of the providers and plans that best fit your needs and budget.
(The enclosed image is the AirTV Player.)