Skyboxe Hub Approved by Feds
Skyboxe Hub Approved by Feds
Combined Video Receiver, Modem, and WiFi Router
The Federal Communications Commission just approved an interesting new fixed wireless device. Called Skyboxe, the device combines a pay TV box, a WiFi router, and a modem. Until now, getting all of these functions required at least three devices.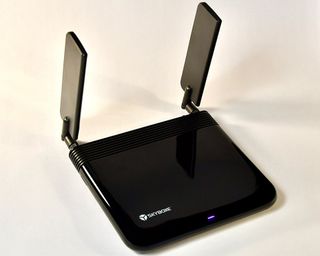 Hub Preloaded with Sling TV App
Skyboxe says it will release the new device sometime this fall. It has dubbed the product officially as the Skyboxe Hub 4G. It incorporates a 4G LTE access point, an Android TV-based receiver, an 802.11sc WiFi router, and an ATSC 1.0 tuner for bringing in local broadcast channels. The Android receiver comes pre-loaded with several apps, including Sling TV.
Skyboxe released a data sheet stating that the hub can process data at speeds exceeding 1 gigabit per second (1 GB/S). This is far more speed than most 4G LTE networks can deliver.
Call 1-800-691-3089
Though having designed the hub to function under current 4G LTE network standards, Skyboxe says it's "paving the way" for fixed 5G wireless in the near future. Cable systems now control nearly 70% of the fixed wireless market. But some wireless carriers, in promoting 5G, will tell prospective customers there's no need to pay for both wireless and wireline service.
Bill Smith, Skyboxe's head of marketing, emphasized his company's independence from any particular internet or video service. "Having the functionality of an access point, WiFi router, TV tuner, and apps-based platform in a single device that isn't tied to any one carrier", Smith said, "is what we expect is going to differentiate us."
Call 1-800-691-3089
For Sling TV, shop with Bundle Deals. For the best deals in all video or internet services, shop with Bundle Deals. Compare all providers and plans, then order any service with just one phone call.