Apple TV with Sling TV Cloud DVR
APPLE TV WITH SLING TV CLOUD DVR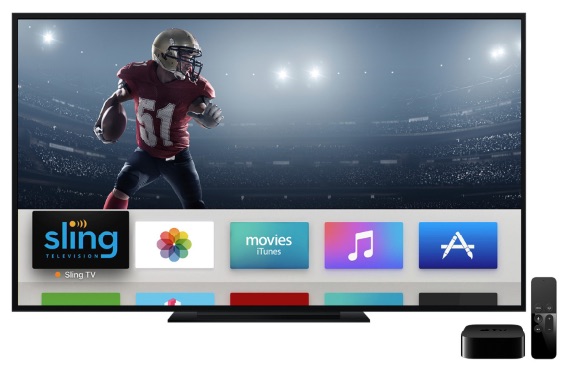 Sling TV, which opened with a bang two years ago, has seldom paused since then in extending extend its reach. It still shows no sign of slowing down.
Sling TV is Dish Network's semi-independent streaming video platform.
WHAT THE CLOUD DVR DOES
On April 24, Sling TV said that its Cloud DVR service will be available on Apple TV devices. For fifty hours of cloud storage, you would pay an additional $5.00 per month. You can pause, rewind, and fast-forward recorded content. Unlike a physical DVR, which limits the number of simultaneous recordings, the cloud DVR enables as many as you could want, and they're available so long as you keep the Sling TV service. Most DVRs handle only a few simultaneous recordings, and they expire after specified periods. PlayStation Vue, for example, erases recording after 28 days.
The Sling TV Cloud DVR automatically manages recorded video. As you reach capacity, it adds more room by deleting old recordings, starting with the oldest one you watched.
The cloud DVR is already available on Roku, Amazon Fire TV, and Android devices.
Sling TV describes its current offer of the Cloud DVR as a "first look", since the company is still refining it, and it's not compatible with some channels because of licensing restrictions.
ACTIVATING YOUR CLOUD DVR
If you are a Sling TV subscriber, you can activate the Cloud DVR by signing in to the Sling TV website. Then hit the 'Add Cloud DVR' tab.  If you're not a Sling TV customer yet, you can easily enroll for it with Bundle Deals. Go to our Sling TV page on this site, choose your channel package, and call us. It's really that simple.
Sling TV's core channel package sells for just $20.00 per month. This is a fraction of the price of a typical cable or satellite TV package.
Apple TV has gotten off to a rocky start, largely because it has faced extreme difficulty in negotiating licensing rights from programmers. It may be more successful in partnership with other platforms. Its compatibility with the Sling TV Cloud DVR is an important- and possibly necessary- step in Apple TV's effort to attain a strong presence in the video market.
(For any video or internet service, shop with Bundle Deals. Compare all providers and plans, then order any service with just one phone call.)