Go90, Verizon's Streaming TV Platform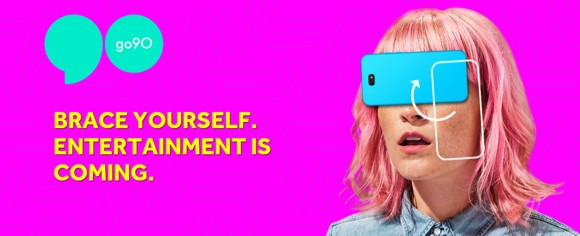 What hath Sling TV wrought? Dish Network's rollout of its independent streaming-only video platform has provoked a reaction in kind from its most prominent telecom and cable competitors. "If Dish Network can do this", they evidently think,  "then we can do it too."
The latest pay TV system operator to enter the scrum is Verizon Wireless. The New York Times has confirmed that the telecom will conduct a beta test of its own internet video streaming service, called Go90, later this week. The Go90 service will combine live events, conventional TV programming, and video from popular web serials.
Go90 follows the rollout of a similar service from Comcast, which followed Dish Network's Sling TV, and AT&T has announced that it will offer a similar service in the near future.
Unlike its competitors, Verizon is concentrating on providing a 'mobile first' platform geared to consumers aged 17 to 34 years, 70% of whom watch video chiefly on mobile devices. The name, Go90, was derived from the fact that users of smart phones have to flip them to horizontal position to watch video in landscape mode.
The Go90 platform will stream content from multi-channel networks including Maker Studios, Fullscreen, Stylehaul, Machinima, Defy, Collective Digital, and Awesomeness TV, along with selected shows from ESPN, Discovery, NFL Network, Comedy Central VH1, MTV, BET, HGTV, Adult Swim, Spike, and NFL Network. Verizon used to charge $5.00 for internet streaming of NFL games, but they will be free– for this season, at least, on Go90.
Verizon wants to encourage the use of Go90 for social connections. You could use it to write personal profiles that will track your experiences, and you can edit and share long video clips on Facebook, Twitter, and Instagram. You can also use the Go90 platform to follow friends, celebrities, and favorite shows.
To find out if Go90 is right for you, shop at Bundle Deals. Compare all providers and plans. Then order any service with just one phone call.